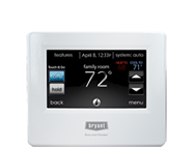 Thermostats are used to turn on heating or cooling systems to bring the home to the desired temperature. In addition to basic temperature control, programmable thermostats can be used to manage the indoor environment of your home at different times of the day or week. This type of control can have a dramatic impact on the overall energy use of your home.
We can discuss with you the various options that work best for you.
Zoning
Zoning can provide optimum comfort with increased energy savings in your home by dividing a home into areas with similar heating and cooling needs and independently controlling the temperature in each area. Just like light switches that independently control lighting in different rooms, with zoning, multiple zone thermostats or sensors control temperature in different areas of the home.
ACBrevan will discuss your current zoning ac system or talk with you about zoning your non-zoned home today.